Commitment to Quality
Certification to spur further quality improvement
Ozu Corporation and group company Ozu Techno Co., Ltd. have obtained ISO 9001 certification, an international standard for quality management. Moving forward, we hope to maintain our high ideals of quality and deliver even better products.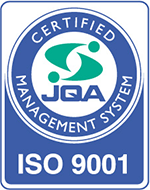 JQA-QMA13213
Sales Headquarters
Activities included in scope of certification:
Export and import, and domestic sales of nonwoven and paper products
Design, development, and processing of nonwovens
Storage and delivery of nonwovens
Quality policy
"Recognizing that tradition is a history of continuous innovation, we present new added value that puts the customer's satisfaction and happiness first, and contribute to the enrichment of people's lives and culture" - adhering with this Ozu philosophy, we seek to emphasize compliance and enhance customer satisfaction.
In addition to meeting customer needs, we aim to ensure the safety and reliability of our products, and be a company that is needed around the three key pillars of tradition, innovation, and added value.
In the course of all corporate activities, we endeavor to preserve the natural environment, protect resources, work for the continuous improvement of quality, and be a company that is gentle to people and the global environment.