Ozu philosophy
Recognizing that tradition is a history of continuous innovation, we present new added value that puts the customer's satisfaction and happiness first, and contribute to the enrichment of people's lives and culture.
The added value that we create is a fusion of tradition and innovation.
"Study the past if you would define the future" - we believe that by giving shape to this spirit on a continuous basis, we can deliver to our customers a sense of security and aim for even greater heights.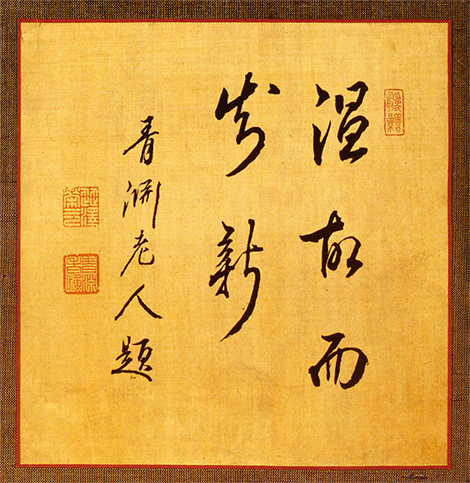 "Study the past if you would define the future" - signed the elder Seien
Shibusawa Eiichi (1840–1931) was inspired by the Ozu philosophy to take up his brush and create this work of calligraphy. The elder Shibusawa, also known as Seien (Blue Abyss), used his extensive knowledge to pioneer and lead industrial development in the late 19th and early 20th centuries. His grand character serves as an eternal role model for the Ozu Group. ("Study the past if you would define the future" is a passage from the Analects of Confucius, Book 2: Good Governance.)
We at the Ozu Group base our very existence today on the trust cultivated by our predecessors since our founding in 1653. We must not neglect the precious possessions that are already ours from the day we join the company, namely our suppliers and customers, and beyond them the consumers, shareholders, office buildings and logistics center, facilities and equipment, available capital, and community understanding.
Our success is one with the success of the Ozu Group. That is, each of us must conduct responsible operations and ensure that the Ozu Group can fulfill its role as a "public entity."
List of rules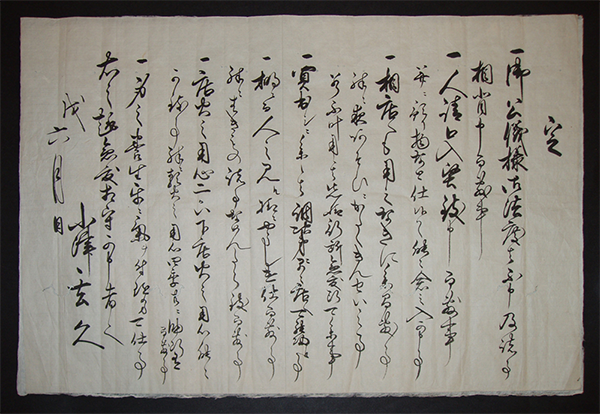 Family precepts from the Genroku era (1688–1704)
The Ozu History Museum houses a list of seven rules representing Ozu employment regulations from the early 17th and late 19th centuries. An abridged extract is given below.
Neither engage in acts banned by the bakufu government, nor break any rules in general
Neither be a guarantor for apprentices, nor help them obtain a loan or find employment
Refrain from visits without good reason, even to friendly neighboring stores
When shopping for supplies, purchase all necessary items and promptly return to the store
There are watching eyes in the store; do not use a toothpick, and never let your footwear look scruffy or unkempt
Beware of fires in both the first and second floors of the store
Take care of your health and that of your colleagues, and get plenty of rest
These precious rules passed down by our predecessors may be expressed in different words over time, but they never lose their essence. Our mission is to continue passing down the essence to future generations.
Our nine standards of conduct
We act according to the nine standards of conduct given below, reminding ourselves of the role we are expected to fulfill.
Maintain a sound corporate climate
We engage sincerely with society in order to pass down to posterity vigorous business operations built on the free and open corporate climate cultivated since our founding.
Comply with laws
We act with a keen sense of ethics and good common sense, in compliance with relevant laws, in the context of all of our activities regardless of location or type of operation.
Base activities on the Ozu philosophy
We demonstrate good understanding of the Ozu philosophy and strive to earn solid, lasting trust by contributing to our customers, suppliers, shareholders, employees, and local community.
Conduct fair, transparent activities
We check constantly that we are acting fairly, without tolerating bribery or corruption, the acceptance of unfair profits, favoritism, or transactions with "anti-social forces."
Respect human rights, eradicate discrimination
We respect human rights in the course of all corporate activities, without engaging in or tolerating any form of discrimination, unfair treatment, or harassment.
Follow correct accounting practices
We follow accounting practices that accompany economic activity based on facts and according to our rules on accounting.
Protect the environment
We seek to preserve the natural environment and protect resources in the course of all corporate activities, recognizing that global environment conservation is a universal challenge.
Ensure safety
We work to reduce management risks through product quality, workplace safety, and correct employment, recognizing that we are members of a company that is a "public entity."
Handle information correctly
We promote appropriate handling of important information such as management data, intellectual property rights, supplier information, and personal information; and transparency of management through the timely disclosure of company information.